View your FICO® Score, updated monthly, for free. See below for more information.
Not enrolled in Citi Online? Register now to get free access to your FICO® Score.
Not a Citi cardmember yet? Become one today.
FICO® Scores: What You Need to Know
Score Deciding Factors
35% payment history, 30% amount you owe, 15% length of credit history, 10% new credit opened, 10% type of credit.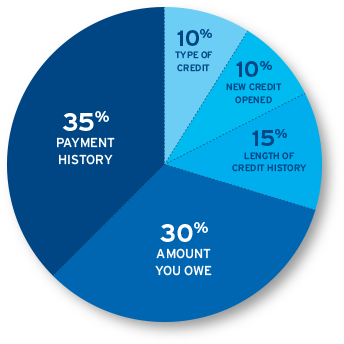 What Your Score Means to Lenders
800 – 900 EXCEPTIONAL
740 – 799 VERY GOOD
670 – 739 GOOD
580 – 669 FAIR
250 – 579 RISKY
Your FICO® Score is calculated based on data from your Equifax credit report using the FICO® Bankcard Score 8 model and may be different from other credit scores. FICO® Scores are intended for and delivered only to the Primary cardmember and only if a FICO® Score is available. Disclosure of this score is not available for all Citi products and Citi may discontinue displaying the score at our discretion.
FICO and "The score lenders use" are trademarks and/or registered trademarks of Fair Isaac Corporation in the United States and other countries. Your FICO® Score is provided for your own non-commercial personal review, use and benefit. Citi and Fair Isaac are not credit repair organizations as defined under federal or state law, including the Credit Repair Organizations Act. Citi and Fair Isaac do not provide 'credit repair' services or advice or assistance regarding "rebuilding" or "improving" your credit record, credit history or credit rating.